Complimentary Book:
Complimentary book included with this course: FX Option Performance: An Analysis of the Value Delivered by FX Options since the Start of the Market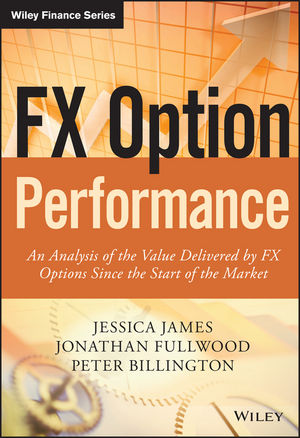 Outline: Why take this course?
Another course on FX options? But surely there are plenty of courses and books which tell you how to price and hedge these products? Indeed there are – but that's not what this is for. On this course you will learn about the value, not the price, of FX options.
The FX Option market has grown from humble beginnings in the 1980s to a global behemoth, with hundreds of billions of US dollars worth of flow going through it each trading day. With such size and liquidity, it is generally assumed to be efficient, with few profit opportunities. But astonishingly, this is not so. Jessica James, the course leader, presents new work where she has taken a completely different attitude to most option studies; instead of looking into the theory of how the products are valued and what they should be worth, she has gone back through the historical data to find out what they actually delivered compared to what they cost.
This course thus offers a unique and practical guide to option trading and hedging, having the courage to report how much these contracts have really made or lost. This critical (and often overlooked) information gives investors and hedgers alike the edge they need to make more informed decisions. Presented in accessible terms and not overly technical, with over a hundred charts and diagrams to illustrate the findings, this course should appeal to anyone with an interest in the area. Jessica reveals where to look for value and offers help to corporations hedging their FX exposures. Some of the results are truly remarkable; for example, longer dated call options pay back on average only about half of their initial cost. It seems astonishing that this information is not public knowledge.
The course will be a fascinating introduction for students entering the field, a source of exciting ideas for investors looking for opportunities, and an essential guide for corporations wondering how to hedge their FX exposures.
Day 1: 'The FX Option Market: How it works, what's right, and what's wrong'
(1) Introduction to the FX option market
History of theory and trading
Market Participants
What they are, why buy or sell them
How to price them

Black-Scholes-Merton
Limitations of this classical model
The underlyings (FX rates, depos, forwards, vols) and how they behave. (correlation of underlyings, implied vs realised quantities)
How they affect the price of options – lots of market examples, EURCHF will be fun
The 'greeks'
How options are traded

By a hedger
By a hedge fund
By a trading desk
(2) What's wrong with the market: Puts vs Calls
What's the 'fair price' for an option?
Backtesting FX option returns – theory, data, difficulties
How might mispricings arise?
Broad brush results: straddles
Puts vs calls: first sign that something is wrong
Individual ccy results – clues to what is happening with AUD, JPY
Explanation and theory of the carry problem
Implications for hedgers
Trading strategies
Day 2: 'The FX Option Market: Long term anomalies and how to use them for trading and hedging'
(1) What's wrong with the market: ATMF vs OTM options, G10 vs EM
Theory of OTM options – volatility smile
Data available (risk reversals and butterflies) and what does it mean
Illustration that OTM options are poor value
Detailed discussion as to how/why
Differences with G10 and EM
Theory of differences
Currency-by-currency discussion
Trading strategies
(2) The FX Carry Trade
History
Theory
Improvements/enhancements. How to reduce risk and improve returns
Can we do it with options?
Trading strategies
Fee Structure
This workshop is free online via The Quants Hub Annual Subscription Service!

---
Standard Fee to attend the Live event: £599 + UK VAT per day (Register to BOTH days of the workshop and receive £200 discount)

Register Below to the Live event

---
Online fee: £599 for both days (This workshop will be hosted via the WebEx platform)

Register on the Quants Hub to watch Live Online

---
All attendees either online or at the live event in London will receive the recorded video workshop!
About the Presenter

Jessica James is Head of the FX Quantitative Solutions team at Commerzbank in London. She joined Commerzbank from Citigroup where she held a number of FX roles, latterly as Global Head of the Quantitative Investor Solutions Group. Prior to this she was the Head of Risk Advisory and Currency Overlay Team for Bank One. Before her career in finance, James lectured in physics at Trinity College, Oxford.
Her significant publications include the 'Handbook of Foreign Exchange' (Wiley), 'Interest Rate Modelling' (Wiley), and 'Currency Management' (Risk books). Her new book 'FX Option Performance' will be published April 2015. She has been closely associated with the development of currency as an asset class, being one of the first to create overlay and currency alpha products.
Jessica is on the Board of the Journal of Quantitative Finance, and is a Visiting Professor both at UCL and at Cass Business School. She is a Managing Editor for the Journal of Quantitative Finance. Apart from her financial appointments, she is a Fellow of the Institute of Physics and has been a member of their governing body and of their Industry and Business Board.
Details
Location:
Radisson Blu Portman Hotel
22 Portman Square
London W1H 7BG
Hotel Website
Flight details:
All delegates flying into London on the morning of the event are reminded that they should arrive 30 minutes before the workshop starts for registration. The hotels West End location is approximately 1 hour from all 3 main London airports, Heathrow, Gatwick and City. Returning flights should equally allow for the events finishing time.
Sponsorship:
World Business Strategies offer sponsorship opportunities for all events, E-mail headers and the web site. Contact Sponsorship: +44 (0) 1273 201352
Disclaimer:
World Business Strategies command the rights to cancel or alter any part of this programme.
Cancellation:
By completing of this form the client hereby enters into a agreement stating that if a cancellation is made by fax or writing within two weeks of the event date no refund shall be given. However in certain circumstances a credit note maybe issued for future events.

Prior to the two week deadline, cancellations are subject to a fee of 25% of the overall course cost.